CPBF AGM 10.00am 2 July
news
Registration from 9.30am. Diskus Centre, Unite the Union HQ, 128 Theobald's Road, LondonWC1X 8TN. Nearest station Holborn.
Programme: 10.00am – 11.15 am, CPBF Annual General Meeting; presentation of reports 2015-16; election of National Council, discussion of future policy and activity. (CPBF Members only)
11.30am – 1.15pm Open discussion on campaigning for media reform - future of public service broadcasting, press regulation and tackling media ownership. (Open to non-members.)
1.30pm– 3.30 pm, drinks and snacks with farewell party and tributes for Barry White national organiser who is retiring after 19 years working for the CPBF. (Open to non members.)
---
Wapping Comes to Tower Hamlets
events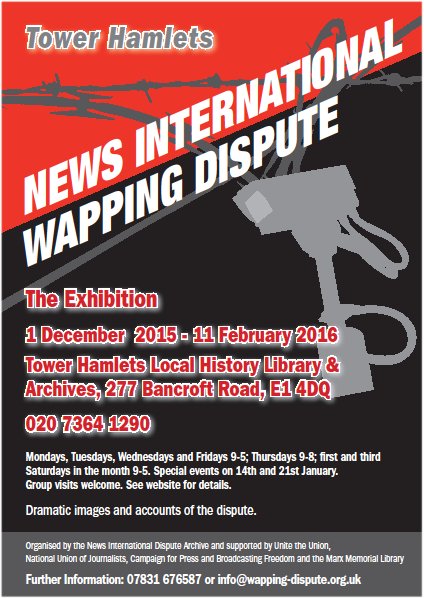 Rupert Murdoch's newspapers stand accused of debasing the British media. Revelations of industrial-scale phone hacking at the News of the World and corruption of the police and national politics have laid bare the malign influence and power of a global media empire.That power was accumulated over 30 years but the crucial episode was the year-long Wapping dispute. When negotiations broke down and the strike began in January 1986, Murdoch shifted production of the papers overnight to a new, non-union printworks, sacking the existing production and administration workforce of 5,500 employees.Supported by the Tory government and its anti-union laws, Murdoch's vast resources had enabled the company to equip and staff the Docklands plant in secret, with strike-breaking labour recruited by the electricians' union in an act of treachery unparalleled in labour movement history.The High Court ordered the sequestration of the funds of SOGAT, the largest union involved, when distribution workers in London refused to handle Murdoch's papers. Other unions were ordered by the courts to refrain from solidarity action and fined for contempt. More than 1,400 strikers and supporters were arrested, six were jailed and hundreds injured during demonstrations and picketing. Complaints of police brutality and unwarranted arrests led to an inquiry that described police actions as violent and undisciplined. The story is being told from the point of view of the sacked workers and their trade unions. The exhibition, the booklet "The Workers' Story" and the website offer graphic accounts of the determined resistance of he sacked printworkers and the "refusenik" journalists who joined them.
---
BBC open meeting
events
The Campaign for Press and Broadcasting Freedom is holding this open meeting to discuss the next stages in the campaign.
6.00pm Monday 21 September 5th Floor, Headland House, 308-312 Gray's Inn Rd, London WC1X 8DP (nearest tube Kings Cross St Pancras).
---
Fight for our BBC
events
The NUJ is holding an event in Parliament to launch the Fight for our BBC campaign with an alliance of organisations on Wednesday 10 June. Wednesday 10 June 2015 Committe Rooms 9 &10, House of Commons, London SW1A 0AA 4.00-5.00pm Briefing for lobbyists, Committee Room 9, House of Commons.5.00-6.30pm Lobby of MPs and drop-in session for MPs and peers, Committee Room 9. 6.30pm Public meeting hosted by Broadcast Magazine, Committe Room 10.
---
Other recent items
Democracy needs truth-telling
Fair Pay Now - ITV strike Thursday 14 May
Launch of the 2015 Media Manifesto
2015 CPBF Annual General Meeting
Real Media To Meet In Manchester
News International Wapping Dispute
Election 2015 - Making the media an election issue
Orgreave Truth And Justice Campaign organise London demo
We're pleased to invite you and your friends to a unique event:
Stand Up For Journalism: democracy and ownership in the age of big media and internet titans
Nick Davies 'Hack Attack' Question Time
Labour Party Conference fringe public meeting
Festival remembers the great miners' strike
Public meeting - Media in the age of mass surveillance
Settling Scores - London Open Meeting
The 84 miners' strike remembered
Remembering Wapping
Spain and post-Franco reconciliation
The Internet & the Law
A new start? Supporting trade unions & press freedom in Iran. NUJ public meeting in parliament
An NUJ World Press Freedom Day Event
CPBF Annual General Meeting
Murdoch's Politics
Can we trust the BBC?
NUJ London Freelance Branch launches New Ways to make Journalism Pay II conference
Screening of Shadows of Liberty
The Battle of Orgreave - Screening & Panel Discussion
Shadows of Liberty at the West Midlands Human Rights Film Festival
Leveson Fringe at the TUC
BBC cuts - there is an alternative
Media, Power and the Public
Open Up Lobbying - Sheffield meeting - 12th April 2012
Lobby Mark Harper MP on lobbying transparency - Wednesday, 11 April 2012 6:30pm - 8:30pm
Wednesday 25 April 10.00am - Protest at the High Court
Thursday 19 April 6.30pm. House of Commons, Westminster, London SW1.
Bigger than Wimbledon? Make a note in your diary for the 2012 CPBF AGM
Rally for Media Reform
The battle for independent journalism, with Robert McChesney
View Taking on the Media Barons
Conference - Taking on the media barons - 17th March (10am - 4pm) TUC HQ
Wapping Returns to London
Media and the riots event
Taming the Media Moguls
Media Reform roadshow: Hacked Off? Reform, Regulation, Democracy and the Press
Join a Murdoch action in London on Thursday (9am -11am)
The Rebellious Media Conference
The Emperor has no clothes - Murdoch's Media Empire from Wapping to Hacking.
Reporting the riots: did we get it right?
New London venue for Wapping Exhibition
Gotcha! Murdoch, power and corruption: What next after the phone hacking scandal?
IFJ Conference 'Journalism in the Shadow of Terror Laws'
Really the End of the World?
CPBF film and discussion at Holmfirth Film Festival - 28 May
Has the mainstream media betrayed democracy in its reporting of the Middle East?
Murdoch expos documentary to be screened
Fringe meeting at the TUC
AGM feedback
Future of the Media—27 April, Manchester
Rallying to defend civil liberties and press freedom
What future for the media in Wales?
UNESCO UK World Press Freedom Day Debate 9 April
2010 AGM - Please make a note in your diary
Democracy without journalists: the crisis in local news
Superdrug strikers march back to work
The Miners' strike remembered
Dire energy predictions
Euro-elections: The Sun and The Times abandon Labour and urge their readers to vote Conservative
Rally for Suzanne Breen
Union pledges to fight for photographers' rights
UN World Press Freedom Day 2009
CPBF Annual General Meeting 2009
GAZA—FAILED BY THE MEDIA
SHAFTED: The Media, the Miners' Strike and the Aftermath, Edited by Granville Williams
John Milton at 400
Get SHAFTED now...
One day Conference - 'The Herman-Chomsky Propaganda Model'
Under siege: Islam, war and the media
The future of PSB - postponed
Blown to bits in Westminster
Citizenship and Public Service Broadcasting How do Ofcom and the BBC Trust see their Roles?
Briefing: NATO, Russia and the new threat of war
Alliance for Lobbying Transparency meeting
Should Internet content be regulated?
CPBF AGM 2008
Beyond the Green Zone: Dispatches from an unembedded journalist in occupied Iraq
World Press Freedom Day 2008
Iraq 5 years on: How the media sells war and why
Citizen Milton
Countdown to media freedom conference with Alan Johnston
Debate Undercover Mosque at the Frontline Club
Journalists to debate concerns over war coverage
Democracy and the role of the independent media
Meet Ken Loach
IAMC 2007 - Community Communication Section Call for Papers
Voice of the Listener and Viewer - autumn conference
Tony Benn: the media and the political process
Taking Sides: The Media and the 'War on Terror'
Scotland and Digital Switchover : Ready for the Revolution?
'Conversation with a child trafficker'
2006 Annual General Meeting and Open Debate
Levellers Day
CPBF AGM
Media workers against the war - meeting
Cover-ups, lies and censorship
Conference to press for stronger BBC
KEEP BROADCASTING PUBLIC
Advertising Effectiveness and the Future Funding of Broadcasting
Conference to press for stronger BBC
Children's rights v. press freedom - who wins?
Beyond TV: everything for the video activist
The news - responsible for war and terrorism?
FoI training from the Campaign for Freedom of information
Local Film Culture, Global Exchange
Children's rights v. press freedom - who wins?
VLV autumn events
Robert Fisk at Bookmarks
Death threat journalist speaks out
Hard hitting media exposé to launch 'Everyman Exposé'
Anti-war protest at BBC AGM
Weapons of Mass Deception: the movie
Launch of The RAM Report
Aliens in the Media
Lies, Spies & Whistleblowers
Freedom of speech - the global challenge
Communicating war: strategies, implications & ethics.
BBC Chair to speak and take questions
Impunity - Getting Away With Murder...
Arguments against G8
CPBF AGM (Sat 9 July): Globalisation and the media
Leading broadcasters to speak on Future of the BBC and ITV
Book launch: Under the Wire
Final line up for Peacock conference
CPBF Scottish meeting
Governance of the BBC: Social Market Foundation event
Regulating journalists... Whatever next?
Hear Amy Goodman on independent media in the US
News for sale - Friends of Le Monde Diplomatique event
CPBF/NUJ/BECTU Conference: 'The future of the BBC and public service broadcasting'
BBC Conference
Your Right To Know....
Iraq Occupation Focus
'The press: Invisible Political Actors?'
Join the vigil to protest BBC's pro-war bias: 2 December
Public Service Broadcasting: Charting the Future
Media and democracy in today's Italy: a meeting with Tana de Zulueta MP
The 12th Vanunu annual benefit
Seminar on The Public Service Publisher: How would it work?
BBC Charter review hearings
Mediawar: Covering conflicts after Iraq
Journalism & Public Trust
Conferences
Programme of CPBF/NUJ events at ESF
European Social Forum
Winning a Voice for licence fee payers
HOW SHOULD THE BBC BE RUN? AND HAS GREG DYKE GOT IT RIGHT?
Edward W. Said - A Continuing Legacy
Spin and Corporate Power: Seminar at Strathclyde University, 18/9 Nov. 2004
What is the ESF ? - meeting for trade unionists at TUC
CPBF AGM - Members Only
Banana Republicans and the One-Party State
Conference: The Age of Information:New Anxieties-New Opportunities, 14 & 15 June 2004
UNESCO World Press Freedom Day 2004
DEATH IN GAZA
MAINSTREAM MEDIA BIAS & THE 'PROPAGANDA MODEL'
PROTEST: Keep the Beeb Free
GLASGOW: Support the protest rally against the war and the Hutton whitewash
LEEDS: Public meeting (12 Feb): Tell Me Lies plus the Hutton whitewash
Palast to launch investigative foundation
AFTER HUTTON: IRAQ AND THE MEDIA
HUTTON IS A WHITEWASH: Demonstrate on Saturday for a full public inquiry into the war...
Peace & Progress Symposium
Stop the War Coalition: forthcoming events
Book launch: 'Tell Me Lies'
ESF 2004: Preparatory Meeting in London
BBC: Wrong or Wronged?
Culture and Communications in Wales after the Communications Act
BCT PIPELINE PROTEST
GRASSROOTS ANTI-WAR CONFERENCE
END THE OCCUPATION MARCH AND RALLY.
LAKENHEATH TRESPASS DAY
NO NEW OIL DAYSCHOOL
Oil, war and climate change: dismantling the oil economy.
Biased news—do we want it here?
HAPPENING - International Writers Day 2003
COMMUNICATING THE WAR ON TERROR
THINK LONDON: THINK LOCAL - Making better use of the capital's media
VENEZUELA: A YEAR AFTER A POPULAR UPRISING REVERSED THE COUP
CPBF AGM: BOOK THE DATE NOW
The VLV 20th spring conference: 'The Communications Bill: Content or Commerce - which matters most?'
From the maverick reporter who brought us The Theft of the Presidency, Enron and the Power Pirates, and Lobbygate ...
Liberty Annual Conference 10 May 2003
SACRED MEDIA - CONFERENCE ON MEDIA, RELIGION AND CULTURE
AMERICANS AGAINST WAR PRESENT
Latest Events from MWAW
World Press Freedom Day

Journalists at war

A three-part debate to mark world press freedom day

SOUTH-EAST ASIA - THE SECOND FRONT IN THE WAR AGAINST TERROR
Reporting War on Iraq: The Challenge for Public Service Broadcasting
Westminster Media Forum meetings
GLOBALISATION PUTS CORPORATE PROFITS BEFORE PEOPLE

Intelligence Squared debate with George Monbiot, Will Hutton, Caroline Lucas, Martin Wolf & Steve Hilton on 27th March 2003
WOMEN SAY NO WAR

INVEST IN CARING NOT KILLING
WOMEN'S WEEKLY ANTI-WAR PICKETS

Women Say No War - Invest in Caring Not Killing
Iraq: broadening the agenda
PUBLIC MEETING (CPBF FUNDING APPEAL)
>>>> Media Workers Against the War presents <<<<

"An Evening with Ken Loach and Guests"
Wednesday December 11th, between 2.00 and 4.30
Wednesday 27 November 7.30pm

Public meeting outlining developments at the
Bloody Sunday Inquiry hearings in London.
Saturday 16 November 7.00pm - 9.30pm

10th Vanunu Benefit
Media, Power and Democracy
Monday 2 December 6.00pm - 7.30 pm
Wednesday 27 November
Saturday 16 November 11.00am - 5.00pm
Committee for Peace in the Balkans seminar, Tue. 26 Nov.
Committee for Peace in the Balkans seminar, Wed. 16 Oct.
'Media manipulation and Labour's Spin-doctors' - a Political Correspondent's view
Thursday 28 November 10.30pm - 3.30 pm

The Communications Bill: getting it right.
VLV Conference on the future of Children's Television
Wednesday 6 November 9.45 am - 4.45 pm.
An evening with Nick Jones.
Tuesday 22 October 6.30pm - 8.00pm.
Television, Learning and an Educated Democracy.
Tuesday 15 October 6pm - 7.30pm.
Broadcasting, Scotland and the Communications Bill.

Saturday 12 October 9.30am - 4.30pm
Not in My Name: A Cutting-Edge Film-Documentary
CANCELLED: BECTU CONFERENCE ON THE COMMUNICATIONS BILL, June 22
The Dangers of Media Deregulation
Community Media Association's Annual Festival, Leeds, 15 June 2002
The Institute of Economic Affairs' Conference: THE FUTURE OF BROADCASTING
Make a note of the date and venue of our AGM.
JOURNALISM AND TERRORISM
JUSTICE FOR MARTIN O'HAGAN - the
Annual General Meeting of
REPORTERS SANS FRONTIERES UK
GLOBALISATION, TECHNOLOGY & DEVELOPMENT - 2002 CRIA conference
Freedom & Justice for Samar & Jawad, in association with al-Awda (UK)
Public Meeting
Bookmarks, London with George Monbiot
Wednesday 8th May, 6.30pm
Bookmarks, 1 Bloomsbury Street, London, WC1B 3QE
Palast on the Nicky Campbell Show, BBC R5Live
Wednesday 10th April, 11 am-12 noon
Think Twice - Palast Speaks at Trinity College, Cambridge
Palast Speaks in Dublin
Leeds Underground Film Festival Presents...Greg Palast
Newcastle Public Meeting: 23 February
NATIONAL ANTI-WAR ANTI-SANCTIONS CONFERENCE: RESIST!
SEPTEMBER 11 RELATIVES SPEAK IN LONDON
Wales and the Future of Mass Communications:
Cymru a Dyfodol Cyfathrebu Torfol
National conference to mark the anniversary of the Lawrence Report
Alice Mahon MP with Peter Gowan, New Left Review.
Broadcasting Wales and the new Communications Bill
CPBF National Council Meeting
New Labour's anti-terror laws threaten us all
5 December: CPBF Policy Seminar on Media Ownership
28 November: Open meeting - Coverage of the (War) Crisis
CPBF/Public Voice seminar on media ownership
12 November - Communications revolution: who benefits? Nottingham.
30 October - Communications revolution: who benefits? Bath.
30 October - Communications revolution: who benefits? Preston
1 November - NUJ meeting
27 November - Commedia annual conference
4th November - Caryl Churchill's 'Far Away', plus Kika Markham reading from Tony Kushner's 'Homebody/Kabul'.
Events, events, events
October 23 - MWAW rally at the BBC
October 19 - Media democracy day
26th October - Stand uo for refugees, comedy night.
26th October - The environment & refugees, conference
28 November - Voice of the Listener and Viewer annual conference
1 November - Voice of the Listener and Viewer conference on children's broadcasting
23 October - The Balkans & the International Community
22 October - CPBF National Council